About me - The Cutlers Dynasty of the Poks
The cutler´s craft has been maintained by the Pok family for seventy years. The first cutler in the family was Jaroslav Pok (born 1907) who was trained by the famous cutler, Wébr, in Pilsen. In 1933 Jaroslav Pok started the cutler´s trade in Stříbro, near Pilsen, where he lived for three years, and then came back to Pilsen again. He opened a cutler´s workshop with a store, in Nádražní street, and began to make, sharpen and sell general purpose knives, butcher´s knives and also kitchen knives. He also offered folding and hunting knives, cleavers, butcher´s axes and carving sets with horn handles.
In 1946 the firm Pok employed nine people. Further development of the firm, as well as extension of its activities and other crafts, was stopped by communists, who resumed power in 1948. From 1949, the company could not employ any labourers, and due to further political development in Czechoslovakia after 1953, Mr. Pok was forced to close the business. Nevertheless, he still managed to train his son, Josef, as a cutler. Josef, however, could not continue his father´s trade. In 1974 Jaroslav Pok died, and unfortunately he did not live long enough to see the "renaissance" of the cutler´s tradition in the firm Pok.
Josef Pok (born 1931) graduated from the Cutler´s School in Mikulášovice, which was the capital of the cutler´s craft at that time here. In 1953 he began to work in the Skoda factory in Pilsen, where he worked as a designer, technologist and assembly technician. Besides that, he continued with the making of knives. He could not make them as a full-time professional, but only as a hobby and for his friends. His workshop was in a small garage. As the political situation in Czechoslovakia was beginning to relieve itself, people were allowed to carry out various kinds of services. Therefore, Mr. Pok began to sharpen and make knives as a part time job. Later on, his love for the craft won out.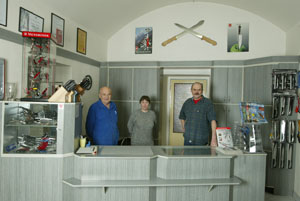 A year before retiring, Josef Pok quit his job in the Skoda factory, and in 1990 he started business as a cutler, with the aim of building up the interrupted tradition of the Pok´s firm once more. The beginning was not at all easy. One room in the basement of his house served both as a workshop and shop. The firm gradually built up its reputation - soon to become sought after by many customers, thanks to the wide range of products.
The current main line of business of Josef Pok is special sharpening of surgical blades for hospitals, as well as the making of kitchen, butcher´s, craft and hunting knives. Blades are made of high quality, stain and rust proof steel of domestic and foreign production. Handles are made from time-tried and popular species of wood, e.g. plum, walnut and cherry wood.
In 1990 Josef Pok´s son, Otakar (born 1958), came home for a six-month holiday. He worked as a sailor in the Czechoslovak ocean shipping company. He trained as a joiner, graduated from a Secondary Training School of Joinery, and had never been a cutler before. After his arrival he began to help his father, first with knife handle making, later with sharpening of butcher´s and kitchen knife blades. The cutler´s craft gripped him so much, that he failed to return to his ship, and became an upholder of the family´s tradition. The craft is very varied. A good cutler must know how to work with noble metals as well as exotic woods, horn, antlers, mammoth bone, nacre. He should master whetting, polishing, hand and machine metal-working, sharpening and joinery.
Otakar Pok was gripped by the manual manufacture of knives. He started to make fishing, hunting and sporting knives with fixed blades. His father´s schooling proved successful. Customers liked his products, and they were selling well. Not everyone wanted to buy a ready-made knife, some people had their own idea of the shape, size and material for a blade or handle. Therefore, Otakar Pok started to make custom knives too. He extended the production by making collector´s knives. Each knife has its own unique number, is tested for HRC hardness, and receives a guarantee certificate. It goes without saying that each collector´s knife has a leather case. Besides that, knives of a collection character are sold in a leather box.
Just as the production of knives made by Otakar Pok is varied, so are the materials used. Knife blades are made of high quality steels - ATS 34, RWL 34, 440-C, stain and rust proof damascus steel - by Damasteel or F.Schneider´s Steel. Hardness, following the tempering process, reaches 58 - 61 HRC. Blades are tempered in special vacuum furnace, by a firm specializing in heat processing of metals, according to the producer´s instructions.
For knife fittings, stainless steel, titanium, silver, brass, and many others are used. Handles are made from horn, micarta, leather, exotic woods, walrus tusk, giraffe bone, mammoth ivory, etc. This all depends upon creativivity or upon a customer´s wishes.